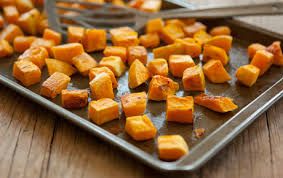 Roasted Butternut Squash 
As always when we have a lot of one particular crop, we're always open to new ideas... Our latest favorite was an accidental creation. The night before we had roasted some cauliflower in olive oil and brown mustard. There was so much oil left in the pan that we decided to recycle it into another side dish. But this time, we added chopped dried rosemary. Super yummy!  

Our next experiment was met with mixed results. We roasted the squash in walnut oil, a favorite of ours for roasting yellow potatoes. This time, we crushed the rosemary into dust, with salt and pepper. The overall result was that the oil browned the squash faster, but imparted a slightly bitter flavor. Edible, but not as yummy. What's your favorite butternut squash recipe???