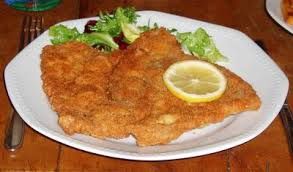 Poor Man's Wienerschnitzel
serves 4 
Weinerschitzel is a typical Austrian dish that is made with veal. Pork makes this classic dish budget friendly and its deceptive simplicity makes it wickedly good. 
1/2 pound pork tenderloin, fat trimmed, sliced into 4 equal parts 
1 1/2 - 2 cups plain breadcrumbs (add Italian spices for a variety) 
2 eggs, whisked 
2 tsps salt 
1 cup flour 
Lemon wedges 
With the flat side of a meat tenderizer, pound each section of pork into a cutlet approximately 1/4" thin. Tip: Use a piece of plastic wrap on the meat to reduce splats on you and your kitchen. 
Set up an assembly line with 3 bowls. The first has the flour and salt mixed together. The second, the eggs. The third, the breadcrumbs. Dredge each cutlet in flour, then egg, then breadcrumbs.  
With medium low heat, fry in a generous amount of butter until a deep golden brown. Serve with plenty of lemon wedges and a sprinkling of freshly chopped parsley. 
Any leftovers are awesome in sandwich with fresh tomatoes, red onions and lettuce the next day!