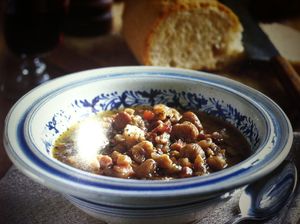 Chestnut and Pancetta Soup 
Here's a great recipe adapted from Flavors of Tuscany. When I lived in California, chestnut season was quite short. Here in Tennessee, the season lasts quite a bit longer, but it will go away. Working with chestnuts can be quite labor intensive, but in my opinion, well worth the time. But, give yourself plenty or just plan on making it for tomorrow. Flavor improves on day two, if it lasts that long.... 
1&1/2 lbs fresh, plump, sweet chestnuts or 14oz dried chestnuts (soaked overnight in cold water) 
1 stick butter (I've made it with this and without. Very rich with, but just as good without) 
5oz pancetta or thick-sliced bacon, finely chopped 
2 medium onions, finely chopped 
1-2 carrots, finely chopped 
1 celery rib, finely chopped 
1 Tbs chopped fresh rosemary (or 1 tsp dried) 
2 bay leaves  
2 garlic cloves, halved 
sea salt and freshly ground black pepper 
Using a small sharp knife, slit the shell of each chestnut across the rounded side. Put the chestnuts in a saucepan and cover with cold water. Bring to a boil and simmer for 15-20 minutes. Peel off the outer thick skin, then peel away the inner thinner skin (this has a bitter taste). Alternatively, roast the chestnuts in a preheated oven at 400F for 15 minutes, cool and then peel off the skins.
Melt the butter in a large saucepan and add the pancetta. If you're using just a little or no butter, I've found that there's usually enough fat from the pancetta or bacon. Once you have rendered some fat, add the onions, carrots, and celery and cook for 5-10 minutes until beginning to soften and brown. Add the chestnuts to the pan with the rosemary, bay leaves, garlic and enough water to cover completely. Bring to a boil, half cover, turn down the heat and simmer for 30-40 minutes, stirring occasionally, until the chestnuts start to disintegrate and thicken the soup. Taste and season well with salt and pepper. Let us know what you think!