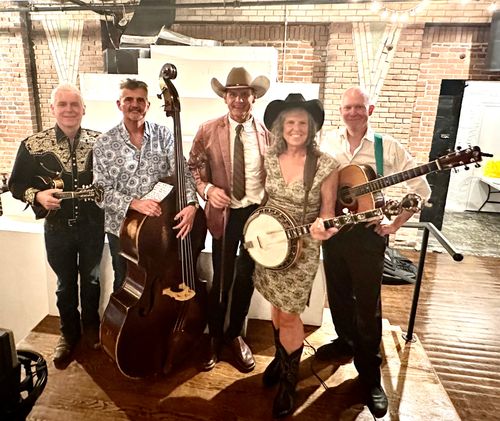 Despite music-infused blood that runs four generations deep, Johnny Campbell Band are anything but your grandpaw's bluegrass band. Hailed as "Good Time Johnny," the band's front man Johnny Campbell is a decorated fiddle player who loves moonshine and is notorious for bringing the party to every stage he commands. While many contemporary bands have taken a modern approach to the music, Johnny seeks to copy traditional bluegrass melodies, note for note.
  
"Bluegrass music, in general, draws to an older crowd of folks but I think that's changing," Johnny explains. "I find that the rising generation of bluegrass musicians haven't studied the forefathers, but rather the modern bluegrass bands that have already evolved; hence, they've disconnected from the source.  We try to market to both older and younger (generations) in that we continue performing the more traditional tunes that put 'bluegrass' on the map, along with original music and new arrangements of the such." 
  
Their diverse approach to the set list appeals to everyone from Baby Boomers to Millennials, surprising each end of the spectrum with a love for the unfamiliar and impressing new fans with their deep-rooted knowledge of this time-honored style. 
  
The strong connection The Johnny Campbell Band have to the music dates back to the history of the band's founding members. Hailing from Nashville, Tennessee, Johnny Campbell is a fourth generation fiddler who grew up on bluegrass greats such as Bill Monroe, Jimmy Martin, Jim & Jesse & the Virginia Boys, and the Stanley Brothers. His long-bow fiddling style is modeled after the late, great Kenny Baker, as well as his brother, Bluegrass Boy, Jimmy Campbell, who played extensively with both Opry members Jim & Jesse, as well as the legendary Bill Monroe. 
  
Holding tight to those roots, Johnny brings enthusiasm and charisma to an ever-evolving musical genre. He's a decorated solo fiddler, winning several competitions that include Uncle Dave Macon Days, LaGrange Fiddle Competition and Yeehaw Junction. As a member of San Francisco-based band Windy Hill, he helped the band achieve the award for "Best Emerging Artist" in The California Bluegrass Association, First Place at Yonder Mountain String Band's String Summit and Second Place at Rocky Grass.

The band member include seasoned Nashville musicians Terry Eldredge (bass), Jeff Burke (mandolin), Phyllis Erck (banjo) and Frank Rische (guitar). In addition to playing fiddle, Johnny tells tall tales and his performance keeps the excitement high and the audience eating out of the palm of his hand. The captivating Southerner recalls some of the unintentional humor that's followed the group during their time on the road. 
  
"On one tour I got pulled over for speeding by a North Carolina state trooper and one of the bandmates backed the bus over the police car! Luckily, no one was hurt except the car, but it made for a fun story," Johnny recalls. "Shenanigans lead to stories- and isn't that what country music's all about?" 
  
A flare for story-telling is certainly key to the bluegrass movement, which Johnny declares is not just a genre of music, but a lifestyle. The magnetic performer has also been on the other side of the musical coin, with several songs written about him. One notable mention is "Mr Moonshine" by Todd Grebe, formerly of the Alaskan bluegrass band, Barefoot. The tune talks about the performer's tendency to always have a spot of sunshine on him... that he's more than willing to share. 
  
Good vibes, high energy, great tunes and a memorable performance make the Johnny Campbell Band a must-catch act out of the booming Nashville music scene. Grab your friends, grab your gal, get to a show and get ready to have the time of your life.